The small business market in the United States is vast, yet a lot of these businesses struggle to access the financial services they need. In response to cash flow issues and other financial challenges, small business owners are forced to make decisions that directly, negatively impact not only the businesses themselves, but the owners' personal financial situations.
Many of these challenges could be fixed with improved access to small business credit cards. However, card issuers are understandably hesitant to approve card applications from potentially risky merchants. Even so, the small business card market presents unique revenue opportunities for issuers—and these opportunities should not be ignored.
To dig deeper into how organizations can run a successful small business issuance program and a risk-free way to do just that, Mercator Advisory Group and Aliaswire teamed up to host a webinar: Small Business Card Opportunities: A Unique Revenue Approach. The presenters were Brian Riley, Director of the Credit Advisory Service at Mercator Advisory Group, and Eugene DeSilva, PayVus Head of Product at Aliaswire.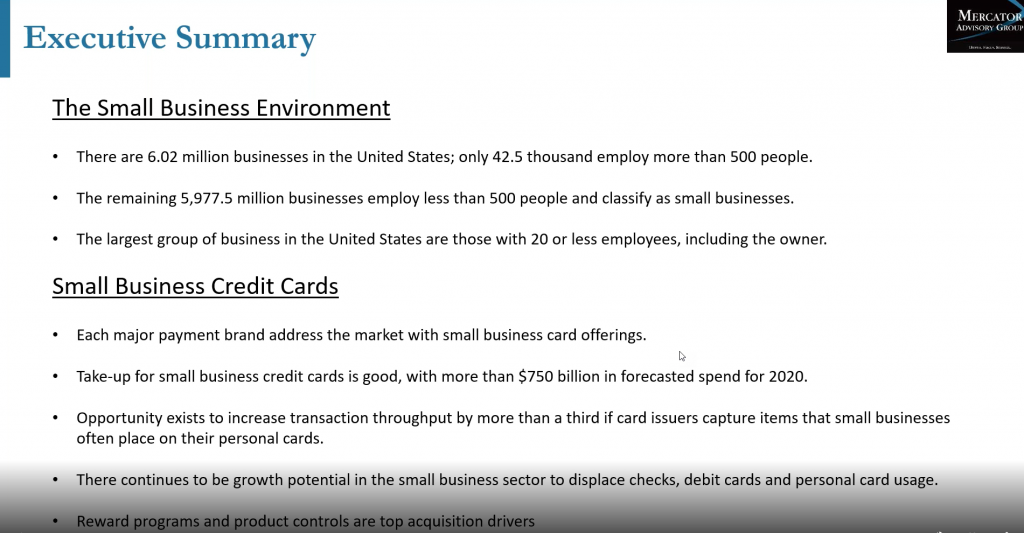 The small business market is bigger than many realize
There are more than 6 million businesses in the United States, over 99% of which are small businesses. Just 42,500 of these businesses have more than 500 employees, classifying them as a large business under the U.S. Small Business Administration. Further, the largest segment of businesses are those with 20 or fewer total employees. Small businesses tend to be service-oriented, while their larger counterparts are more likely to be involved in retail.
Every major payment brand has small business card offerings of some sort, which small businesses are eager to take up. In fact, there is a forecasted small business credit card spend of $750 billion for 2020 alone. But small business owners are still using personal cards for business expenditures, leaving significant room for card issuers to capture the transactions currently being lost to personal cards.
"If card issuers capture items that small businesses place on their personal cards, this transaction throughput can increase by more than a third, which indicates growth potential in the small business sector," explained Riley.
Even before COVID-19, small businesses struggled with cash flow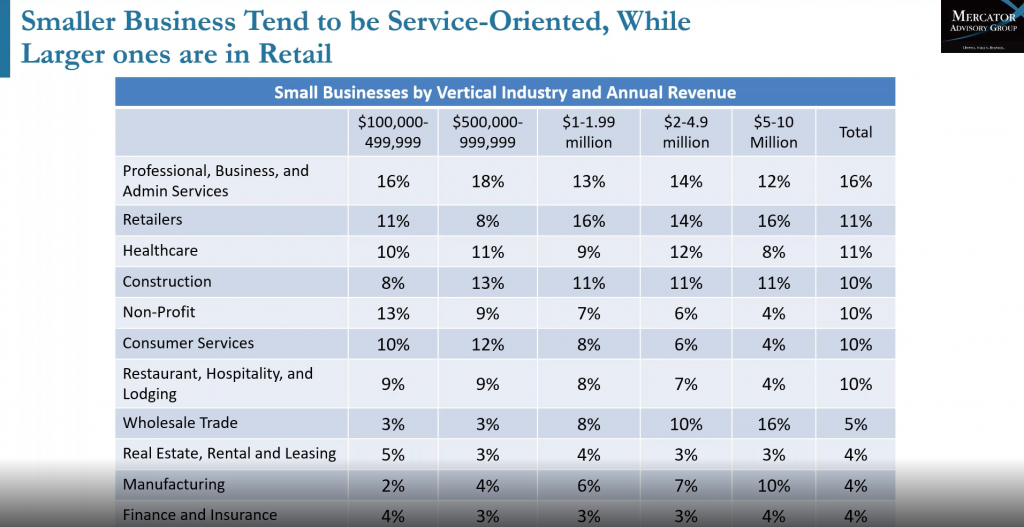 Prior to the COVID-19 pandemic, small businesses were facing various financial challenges, including credit availability, operation costs, and debt payments. To counteract these difficulties, business owners resort to tactics like downsizing their business, using personal funds for business expenditures, taking out additional debt, and making late payments.
"Small businesses face several challenges that force them into behaviors that aren't in their best interest," said DeSilva. Businesses aren't necessarily failing because they aren't good at what they do or because they are offering a bad product. Rather, they aren't able to manage their cash flow successfully. Ultimately, "being able to separate business expenditures from personal expenses is critically important for a successful business," he added.
Piling onto other challenges, increased risk, decreased transaction volume, and unprecedented levels of unemployment driven by COVID-19 are squeezing small businesses even tighter than before. And while business cards do play a strong role in small business payment usage, there is still a far too high usage of other methods, such as the aforementioned dipping into personal funds.
"Small business cards capture only a portion of credit card spend (66%) since many cardholders are using personal accounts," added Riley. Additionally, a lot of small businesses are unhappy with their business credit cards. Over half are actively looking for a new small business card, creating a market opportunity for ISOs that can meet the needs currently going unaddressed. Better rewards, sign up bonuses, improved interest rates, and larger credit lines are top priorities in the search for a new card.
Underwriting is more complex on the business side
Consumers applying for credit cards are often approved in a matter of seconds, as the process is highly automated and relies on basic information such as their stated income and FICO score. Small businesses, on the other hand, require a more thorough evaluation. Startup failure rate differs from industry to industry, long term relationships and opportunities vary, and other complex nuances lead to frequent underwriting failures.
A small business issuance program must meet seven requirements to be successful, each of which are explored in-depth in the webinar:
Universally accepted card
Account level controls
Effective pricing
Incentives
Rewards
Transacting in any common form
Building progressive relationships
PayVus: A small business credit solution that benefits issuers and merchants alike
Banks that are unable to properly assess risk can have decline rates of up to 70%, making them miss out on revenue opportunities and exacerbating the cash flow and financing issues of small businesses. 
Knowing the challenges banks face in underwriting and small business card management, Aliaswire developed a solution: PayVus. PayVus is a SMB business credit card platform that offers merchants a business credit card with a line of credit. With PayVus, merchants have the ability to send a portion of their typical daily settlement to their PayVus card, which increases their spending line. 
The turnkey solution enables banks to rapidly assess the risk profile of customers and manage this risk on a daily basis. A particularly noteworthy aspect of the solution is its acceptance rate: 99.9% of small business credit applications are approved. Rest assured, banks themselves aren't taking on the risk associated with a high approval rate. "We are so confident in our solution that we take on that risk so that our partners can focus on serving their customers," concluded DeSilva. 
The Takeaway
Small businesses face unique cash flow challenges, presenting an opportunity for banks to generate revenue with small business credit cards. However, issuers often struggle with the nuances of the underwriting process and assessing merchant risk. PayVus, a profitable solution developed by Aliaswire, removes the risk from banks themselves while enabling them to accept nearly every small business card application.
To learn more about the opportunities in the small business card market for banks, ISOs, and merchant acquirers, and how PayVus can make those opportunities come to fruition, get complimentary access to the webinar recording: Small Business Card Opportunities: A Unique Revenue Approach.
Listen to the complimentary webinar – Small Business Card Opportunities: A Unique Revenue Approach
Summary
Article Name
Small Business Credit Cards Present a Unique Revenue Approach for Card Issuers
Description
To dig deeper into how organizations can run a successful small business issuance program and a risk-free way to do just that, Mercator Advisory Group and Aliaswire teamed up to host a webinar: Small Business Card Opportunities: A Unique Revenue Approach.
Author
PaymentsJournal
Publisher Name
PaymentsJournal
Publisher Logo